Herbalism & Iridology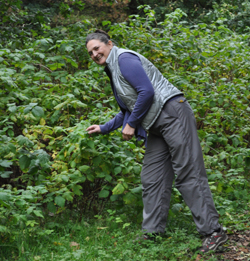 Herbal medicine is a traditional system of medicine using plants and remedies derived from plants to promote health, stimulate the body's own healing capacity, and restoring equilibrium to prevent disease. It is one of the oldest forms of medicine known, and still the primary form of healthcare used by 80% of the world's population.
Herbalists today benefit from the combination of Western and Eastern accumulated traditional wisdom and modern scientific research.
Fee per session (up to one hour) - £45
Your Consultation:
At your initial consultation, Julia will take a full case history detailing aspects of your current health problems, lifestyle, diet, medical and family history. Listening to you is a vital part of this consultation process and to allow time for this the initial consultation is normally a double session (i.e. 2 hours).
Julia practises a naturopathic form of herbal medicine that combines herbs with techniques such as detoxification, dietary therapy and hydrotherapy.
This holistic approach seeks to identify and treat the underlying cause of a condition rather than just the symptoms. Based on the philosophy that the body in balance heals itself, Julia prescribes herbs and other naturopathic techniques in an aim to restore your vitality and the body's optimal balance.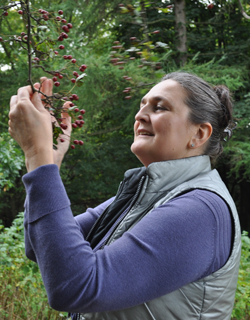 Iridology is usually included in your initial consultation. Iridology is a non-invasive assessment where the structure, markings, colour and pigments in the iris of the eye are examined to assess the health and constitutional strengths and weaknesses of a person. Iridology does not diagnose conditions but can help you identify imbalances in your body and this information is used to help you understand your health problems and guide you towards assuming responsibility for creating positive health for yourself.
Any prescriptions are based on your individual requirements and will take into account any other medicines which you are taking in tandem with the herbs. As a complementary practitioner, Julia is happy to work alongside your GP or other healthcare providers in your treatment.
Wherever possible, prescribed preparations are produced from herbs which are organically-grown or wild-crafted, so that in bringing health to your body, you are also supporting the health of our planet. Herbs may be given to drink as teas (infusions or decoctions), made into capsules, or made into alcohol-based tinctures or other liquid preparations.
You may also be given herbs to apply externally as washes, creams, ointments and poultices. These herbal products are charged in addition to the consultation fee.

During your initial consultation, Julia will prescribe herbal medicines, dietary and lifestyle advice, and naturopathic therapies or detoxification as appropriate. Follow up sessions will monitor your progress and continue to educate and guide you towards better health and wellbeing.
---
Consultations are also available by Zoom - please contact me directly for further details.