Massage & Reflexology
Julia is qualified in Holistic Massage, Remedial Massage and Lymphatic Drainage Massage and has practised since 1993.
Her advanced training has also included Deep Tissue Massage with trigger point release work, Massage for Pregnancy and Labour, and Seated Acupressure.
Fees
Hourly fee for Massage or Reflexology Treatments - £48
1½ hour Massage or combination of Massage and Reflexology - £67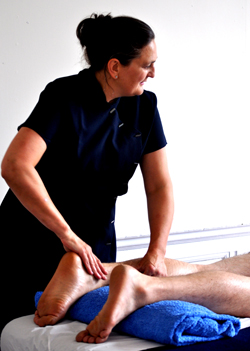 Your Treatment:
Treatments are tailored to the individual and may combine methods from her extensive training.
A single treatment may be indicated, or a series of treatments may be more beneficial. Many people see Julia once a month for a regular treatment.
Massage has been traditionally used to help promote relaxation and bring relief from muscular tension and stiffness. It enhances the elimination of toxins from the body, especially after exercising, may help improve circulation and increase body awareness. During a massage treatment the soft tissues of the body (the skin, muscles, tendons and ligaments) are manipulated with movements which vary in speed and pressure and may include stretches and joint manipulations.
Pregnancy Massage. Julia is qualified and experienced in pre- and post-natal massage, and offers treatments during this exciting stage of life.
Lymphatic Drainage Massage incorporates a series of techniques designed to stimulate the general circulation of your lymphatic system. It may assist with the clearing of toxins from the body during a detoxification or weight loss programme. It has been traditionally used to reduce cellulite and may reduce fluid retention due to prolonged inactivity.
Reflexology is a specialised deep pressure massage, usually of the feet, based on the principal that the anatomy of the body is reflected in reflex zones on the feet and hands. By manipulating these reflex zones, the therapist aims to treat your whole body.
This simple, non-invasive technique may help to de-stress you, and give you a feeling of well-being, to bring equilibrium to your major body systems, and to improve your circulation and lymphatic drainage.